The high demand that have jobs today, It is outstripping many professionals, even those who have extensive experience.
The current market situation, creates changing environments that are difficult to control. Steering committees vary their strategies constantly, sometimes like a headless chicken and others with the intention of adapting to the needs of an unpredictable world.
What is the price we are paying in companies?
Managers with high level of anxiety in decision-making, deranged middle managers trying to follow the instructions of senior management and staff base with a stress level of self-control difficult not understand the constant changes and some random times.
The pressure level to which we are subjected within corporations, It is getting higher and that requires that we need to have more mental training, as we go to the gym when we feel no energy or limply, we must train our mind on an emotional level when we feel stress level, anxiety or concerns do not let us work optimally.
How can we face this increasingly demanding business world?
The Mindfulness, It is arguably the most powerful technique to train our mental muscle. Mindfulness and raise the level of awareness of our emotions, our physical and our thoughts feelings, create the necessary conditions for any current professional and I'm not just talking about managers and middle managers but also base staff.
What happens when your team manager gives you a bad feedback about your work? How long does it take to take your concerns due to any of your customers? You have a bad relationship with a co-worker and that you burn daily?
If you have any of these symptoms, clearly, you must increase your resilience, or your ability to withstand the assaults of life.
I propose a technique based on Mindfulness taught in the program "Search your inside" Google and used to sustain complicated situations. Mindfulness can be defined as Precepts or more as pure consciousness of what is happening here and now. Here are the steps I propose
Stop
Breathe
Perceive
Reflect
Responder
Stop. The first thing is to be aware that is approximately an excessive response on your part. For example, in a meeting when someone attacks you personally present, you can have the tendency to jump straight before being aware that your response is being instantly. You must make a space between stimulus and response and for that the first thing is to realize that your reaction is being virtually automatic. It's important to know, that people who have more developed autoliderazgo, always keep a space between stimulus and response.
Breathe. Breathing is one of the best methods to stop thinking about what is happening at that moment. Leave blank mind is not possible, because our mind is constantly active, so by putting the attention on the breath, focus our thinking changes. Note that it is not simply breathing, but you should take attention to the sensation of breathing, the air temperature in and out of the nostrils and the movement of the chest and abdomen.
Perceive. The next step is to feel what happens in your body. When we have an emotion, this is reflected in the shaped body sensations. Chest tightness, Heat in hands, tension in the neck, pressure on the temples, etc.. Do not try to change anything happens to you, just watch it as if you were a spectator of your physical sensations.
Reflect. The question you have to do is: What message is throwing me this emotion? What I have to learn from it? The most important thing is not judgmental or blaming the other person or some situation so you is going, since you are responsible for your emotion because not everyone reacts the same way to the same circumstances.
Responder. Now, after having gone through the following steps, you are in position to respond from a position with more awareness and less animal. This is the key to self-leadership and emotional management.
However, you can raise a doubt. How I can do that in seconds if I really encounter with that emotion suddenly?
The answer is that you should practice this regularly in your "mental fitness" so that when you get these situations, your mind is ready and the separation between stimulus and response automatically exit. And the day you get it .... Congratulations! You've increased your level of resilience.
Apúntate a nuestra Newsletter monthly for practical items for your professional development.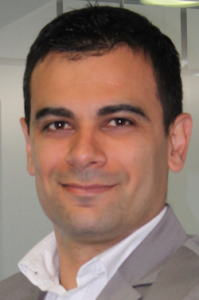 Angel Martinez Marcos Executive Coach & Managing Partner
Follow @AngelCoach10
Tags: 7 Mindfulness habits for success,es autoliderazgo mental training Hábitos mindfulness resiliencia