This week I have been teaching the first workshop development program,,es,a leadership program based on the methodology of coaching for a group of Sales Managers of a technology company,,es,One of the main topics was the work,,es,Specific,,es,the need to give and ask for feedback by the Manager to all agents with which it relates to the organization,,es,higher,,es,contributors,,es,colleagues,,pt,While we were debating on how to give constructive feedback to colleagues,,es Leader-Coach, un programa de liderazgo basado en la metodología del coaching para un grupo de Sales Managers de una empresa tecnológica. Uno de los temas principales que trabajamos fue el feedback. En concreto, la necesidad de dar y pedir feedback por parte del Manager a todos los agentes con los que se relaciona en la organización: superiores, colaboradores, colegas.
Mientras debatíamos sobre cómo dar un feedback constructivo a sus colaboradores, Participants commented that his company already had a profound culture of feedback,,es,and that even his own colleagues were waiting for him after a commercial visit to a customer,,es,feedback culture that has this organization is to give feedback,,es,but not actively ask for feedback,,es,The manager often gives his team feedback on their performance,,es,but does not ask for feedback on their own performance as Manager,,es,What is the message you are giving,,es,inadvertently,,es,the Manager,,es, y que incluso sus propios colaboradores lo esperaban después de una visita comercial a un cliente. However, la cultura de feedback que tiene esta organización es la de dar feedback, pero no la de pedir activamente feedback.
Namely, el Manager da frecuentemente feedback a su equipo sobre su desempeño, pero no pide feedback sobre su propio rendimiento como Manager. ¿Cual es el mensaje que está dando, sin darse cuenta, el Manager? Because he does not need any feedback for improvement,,es,because you do not ask,,es,It is being put at a higher level than their partners,,es,something extremely harmful if you want to be a leader who builds trust from,,es,You are not giving example,,es,and I said Albert Schweitzer Nobel Peace Prize,,es,the example is not one of the ways to influence others,,es,It is the only one.,,es,The blind zone,,es,what they know,,es,and think others perceive me and I do not know,,es,you can learn by asking feedback to others,,es, porque no lo pide. Namely, se está poniendo en un nivel superior al de sus colaboradores, algo tremendamente dañino si quiere ser un líder que construye desde la confianza. No está dando ejemplo, and I said Albert Schweitzer Nobel Peace Prize,,es,The public area and private area are things we know we,,es,Do not justify you when you receive it,,es,Do not be angry,,es,asks real examples or observable facts,,es,Converts the fact of asking feedback on something frequent and regular,,es,your partner or team has lost confidence in you,,es,learn to give and ask for feedback,,es,Leader-coach,,es,keys to ask for feedback,,es that "el ejemplo no es una de las formas de influenciar a los demás. Es la única."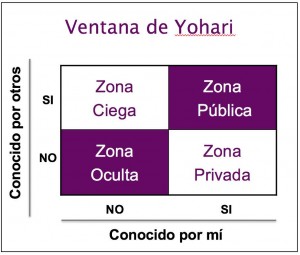 En la imagen muestro la conocida Ventana de Yohari. La zona pública y la zona privada son aspectos que conocemos de nosotros, and therefore, no son las áreas donde podemos crecer más. Por este motivo, la zona ciega y la zona oculta es donde está el mayor potencial de crecimiento y desarrollo de un profesional.
La zona oculta (lo que nadie conoce de mí, ni siquiera yo, namely, lo que está en el inconsciente) se puede conocer a través de disciplinas como el mindfulness, la PNL, o a través de un proceso de coaching.
La zona ciega (lo que conocen, opinan y perciben los demás de mí y que yo no conozco) se puede conocer a través de pedir feedback a los demás, or through tools such as feedback 360,,es,Hidden area,,es,what nobody knows me,,es,not even me,,es,which it is in the unconscious,,es,You can be known through disciplines such as Mindfulness,,es,PNL,,ro,or through a process of coaching,,es,The blind area and hidden area is where the greatest potential for growth and development of a professional,,es,as the private and public areas and know,,es,Give him time to prepare,,es,NO justified when you receive,,es,Do not ask why,,es,NO angry,,es,NO disagreeing,,es. Therefore, pedir feedback es fundamental para un Manager o jefe de equipo. Pero hay que saber cómo hacerlo. Then, te doy las 8 claves a la hora de pedir feedback, de modo que generes una confianza entre tu equipo y tú.
Da tiempo a la persona para que lo prepare.
NO te justifiques cuando lo recibas.
NO preguntes "por qué" cuando lo recibas.
NO te enfades.
NO manifiestes desacuerdo.
Sí tienes derecho a aclarar o pedir concreción, namely, pide ejemplos reales o hechos observables.
Da las gracias y comprométete como mínimo a pensarlo y valorarlo (o directamente a trabajar sobre ello).
Convierte el hecho de pedir feedback en algo frecuente y normal.
Si te justificas, preguntas por qué, te enfadas o manifiestas tu desacuerdo con el feedback que te han ofrecido, es casi seguro que la próxima vez que pidas feedback, no te lo van a dar de forma sincera, porque saben que no lo recibes bien y te pones a la defensiva. En conclusión, que tu colaborador o equipo ha perdido la confianza en ti. Y tú habrás perdido muchísimo poder de influencia.
Si estás interesado/a en aprender a dar y pedir feedback, pídenos información sobre nuestros programas de liderazgo y comunicación para Managers o jefes de equipo. Send us an e-mail to execoach@execoach.es.
Have you been interested in this item? Follow us on Follow @Execoach_ And sign up for our Newsletter monthly for practical items for your professional development.

Javier Carril
Managing Partner