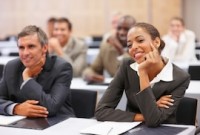 In Company Training courses for professional development of managers
Courses and practical dynamic between 8 and 16 hours, which use techniques and tools Coaching, NLP (NLP) and emotional intelligence. Learning takes place through roleplays, Case Studies, watching videos, Individual and group exercises, besides conceptual exposure.
Training Courses:
Coaching skills for managers
Teamwork
Mindfulness (Mindfulness)
Effective Communication with NLP
Emotional Intelligence
Leadership and team management
Stress Management
Time management and productivity
Negotiation with Harvard method
Effective Meetings
Effective presentations in public
Managing change and uncertainty
Ask for more information or a no obligation quote by sending an e-mail to execoach@execoach.es
Programs subsidized by the Tripartite Foundation.

Are you interested in develop professionally?
Follow us on Follow @Execoach_
And sign up for our Newsletter monthly for practical items for your professional development.