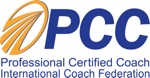 Specialist in the development of management skills con 20 años de trayectoria en el ámbito de las personas en entornos organizacionales. Miembro de Comités de Dirección en el área de RR.HH y Directora General de la Consultora Tecnológica Oxxigeno.
Formadora y Coach para directivos y profesionales de empresas como Banco Santander, Orange, Telefónica, Gamesa, Abengoa, Maphre, TheBodyShop (Grupo Loreal), AENA, Globalvia, Kutxabank, Henry Schein, MeadJonhson, Mediamarkt, etc..
Coach certificada PCC por la ICF (International Coach Federation). Miembro del Comité de Competencias. Participante de la puesta en marcha de ICF en 2004.
Mentora de coaches en proceso de certificación internacional de la ICF.
Conferenciante y autora de artículos sobre coaching, professional and business development.
Formada en Mindfulness según el modelo MBSR de la Universidad de Massachusetts.
Executive Máster in Business Administrationen el IE Business School
Máster Estratégico de Recursos Humanos. Universidad Autónoma.
Tit. Superior Ciencias del Trabajo. Universidad de Alcalá de Henares.