How many times we talked about what motivates us at work,,es,money is always as the key factor or at least one of the main motivating the people,,es,However motivation based solely money is too simple format and not as profitable as it can seem,,es,Frederick Hezberg,,en?
Clearly, el dinero siempre está como el factor clave o al menos unos de los principales a la hora de motivar a las personas. Sin embargo la motivación a base únicamente del dinero es un formato demasiado sencillo y no tan rentable como puede llegar a parecer.
Frederick Hezberg, It was an American psychologist who was studying the aspects that motivated people in the work and developed his "two-factor theory" or the "Theory of Hygiene and Motivation",,es,Herzberg said that there were two large groups of elements influencing our motivation in a work environment,,es,Hygiene factors,,es,They are necessary but not sufficient aspects for a person to find a drive to give the best of yourself at work,,es,In other words,,es,that if present,,es.
Hezberg destacó que existían dos grandes grupos de elementos que influían en nuestra motivación en un entorno laboral.
Factores de Higiene:
Son los aspectos necesarios pero no suficientes para que una persona encuentre un impulso para dar lo mejor de sí mismo en el trabajo. Dicho de otro modo, que si están presentes, not greatly increase the motivation of the person but if they do not,,es,performance will drop drastically,,es,They are the siguienes,,es,The,,es,working conditions,,es,as being in a space where good temperature and lighting have,,es,that sufficient resources are available to perform daily tasks such as an office,,es,a good computer,,es,or material on a specific position etc.,,es,Management,,en,If nonexistent,,es, el rendimiento bajará drásticamente. Son los siguientes:
The working conditions,,es,or material on a specific position etc.,,es,Mustang Cizmy,,sk,Consultants,,en,Backlinks,,en,Consultant,,en,email diet,,pt,Agency,,en como estar en un espacio donde se tenga buena temperatura e iluminación, que se disponga suficientes recursos para desempeñar las tareas diarias como puede ser un despacho, un buen ordenador, o material relativo a un puesto específico etc.
The Management. Si es inexistente, namely, If your manager does not sit with you to see how you evolve and jointly analizáis the challenges that may be occurring or if you do not have support in complex situations,,es,will influence negatively but if it happens,,es,will not generate a lot of motivation,,es,salary,,es,We usually associate the salary motivation,,es,however Hezberg analyzed the salary may be more demotivating if it is lower than motivating if high,,es, influirá muy negativamente pero si ocurre, no generará mucha motivación.
The salario. Normalmente solemos asociar el salario a la motivación, sin embargo Hezberg analizó que el sueldo puede ser más desmotivante si es bajo que motivante si es alto. Dicho de otro modo, low wages leaves a person without power to perform their tasks and on the other hand try to motivate a person only on the basis of economic increases will do the fruits we hope,,es,company strategy and organization,,es,A chaotic environment within a company hampers long-term plans and short-termism concentrated mainly in,,es,which it causes demotivation out afloat because he did not think to put out the daily fires,,es,Motivating factors,,es.
The estrategia de la compañía y su organización. Un entorno caótico dentro de una empresa lastra los planes a largo plazo y se concentra todo en el cortoplacismo, lo que hace que la desmotivación salga a flote porque no se pensará en apagar los fuegos diarios.
Factores Motivadores
Here are the elements that can promote and boost productivity of people not being basics,,es,but exert a strong motivational push further,,es,some more than others,,es,They can last much longer time,,es,authority to make decisions,,es,When a person has responsibilities and there is someone above to monitor every move,,es,It generates a lot of autonomy and therefore motivation,,es,Furthermore, this is a factor that tends to impact much time,,es, sino que ejercen un empuje fuerte de motivación que además (unos más que otros) pueden durar mucho más en el tiempo.
The autoridad para tomar decisiones. Cuando una persona tiene responsabilidades y no hay alguien por encima supervisando cada movimiento que realiza, genera mucha autonomía y por ende motivación. Además este es un factor que suele impactar mucho en el tiempo, It is like a balloon continuous oxygen for people,,es,work content,,es,perform work that you are passionate about is one of the most motivating factors that may have though curiously if you're not passionate about it is less discouraging than you might think because in those cases we take it as an obligation and psychologically we understand that we pay for it,,es,recognition,,es,We recognize the achievements is one of the aspects that most affect a person's motivation,,es.
The contenido del trabajo. Clearly, realizar un trabajo que te apasione es uno de los factores más motivantes que puede haber aunque curiosamente si no te apasiona es menos desmotivante de lo que se podría pensar ya que en esos casos nos lo tomamos como una obligación y psicológicamente podemos entender que nos pagan por ello.
The reconocimiento. Que nos reconozcan los logros obtenidos es uno de los aspectos que más impactan en la motivación de una persona, Now it lasts careful because time is limited,,es,Another element that strongly influences but with little impact over time is that we are seeing that there results because of our tasks,,es,The only problem is that we have to watch them constantly because its duration is limited in time,,es,Not all jobs can be seen as important is what we do so the departments of internal communication is vital for it,,es.
The results. Otro elemento que influye mucho aunque con poco impacto en el tiempo es que estemos viendo que hay resultados debido a nuestras tareas. El único problema es que tenemos que verlos de forma constante porque su duración en el tiempo es escasa. No en todos los empleos se puede ver como de importante es lo que realizamos por lo que los departamentos de comunicación interna será vitales para ello.
The promotion. And finally the promotion or improvement of our position is the last element according to Herzberg can influence our performance,,es,In this case both positively and negatively,,es,that the absence of promotion can leave a person without the daily leverage you need to have a proactive approach and a necessary attitude in the workplace,,es,What factor missing people you work with your team,,es,Factors that motivate and demotivate at work,,es. En este caso tanto de manera positiva como negativa. Namely, que la ausencia de promoción puede dejar a una persona sin el empuje diario que necesita para tener una proactividad y una actitud necesaria en su puesto de trabajo.
Then, ¿qué factor te falta trabajar con las personas de tu equipo?
Apúntate a nuestra Newsletter monthly for practical items for your professional development.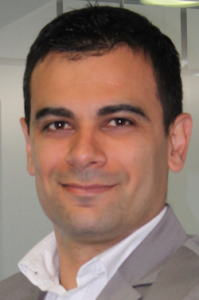 Angel Martinez Marcos Executive Coach & Managing Partner
Follow @AngelCoach10