I remember many years ago when a few office powerpoint traveling on the network, ended in my ordenador.Eran facilities Google Plex en California in which you could see unusual work environments in other companies.
In an age where looking for productivity and performance, Company, that years later would become one of the strongest in the world, used relaxation rooms for employees, foosball, billiards, and many games in a completely "gamificado", or put another way, an environment that encouraged more fun than hard work.
What was the purpose of Google?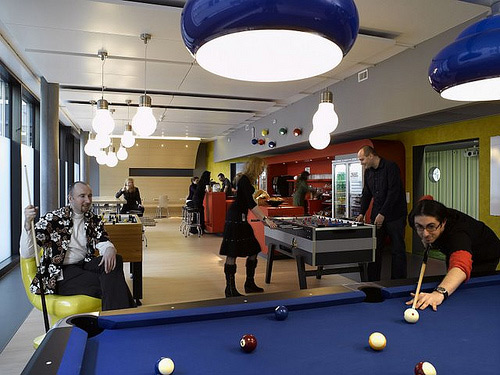 His intention was to develop projects in a fun environment and create something more like amenities that boring office.
Gamificar a business means not only transform a facility that we remember throughout our life more enjoyable, but change a style under a more casual office. This means breaking the long-established rules of neckties, suits and serious faces and move to a more fun work environment in which learning and creativity is the slogan which flies across the enterprise in order to generate, as, more performance and better performance.
Fun, learning and performance are fundamentally linked
There is a close relationship between fun, learning and performance. If you're not still believing, a child think. How is your learning process? It's fun. A child learns fun, what triggers exponentially in school performance.
This concept seems to have forgotten us when we enter into a business and it seems that what prevails is bored faces and people who think of going home to remove the suit to rest.
If you really want your employees to perform better than they do now, think you have to make your work fun, however many times, due to the business in which we are engaged is quite complicated that, so if you are a professional Human Resources or are in the General, focus your efforts on the job gamificar.
Create environments with games, with colors, dress without rigid rules to release creativity and learning, what you generate more self-motivated staff and as a direct result more profit and profitability for your business.

Angel Martinez Marcos
Executive Coach & Managing Partner