Managers have to synthesize large amounts of information to make important decisions. The good news, It is that you can train the brain through exercises Mindfulness throughout your day to improve the ability to concentrate. But what it is based on Mindfulness?

Studies say that the 47% the time since we woke up to start the day, we had on autopilot, so that we are not aware of what we do, ie we brush our teeth, breakfast and take the car automatically, without thinking. Does this sound?
To get up every morning, we release the greatest amount of stress hormones. what is this about? It is because we're always thinking about what might happen in the future and that puts us on alert and we triggers the instinct of defense or escape, releasing cortisol into our bloodstream.
When you wake up in the morning, just spend a couple of minutes breathing and putting full attention to how the air goes in and out of your lungs.
Then when you go to the office, happens 5 minutes readying your mind with a little exercise of Mindfulness. Close your eyes, Sit down, and put the focus on breathing, inhaling and exhaling. If your mind wanders, do not worry and relocates your attention on your breath. And something important, Give yourself permission to have those minutes are for you.
You may not have a private space in your office where you can be quiet or calm, then look for a place like the subway to close your eyes, or even walk from the car until you leave your job and at that time, while walking, put your attention on your breath, only that.
Remember that Mindfulness , improves productivity, power concentration and affects your creativity. Oh and another thing! 5 minutes of practice is better than nothing.
Apúntate a nuestra Newsletter monthly for practical items for your professional development.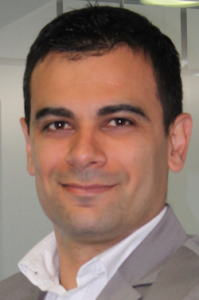 Angel Martinez Marcos Executive Coach & Managing Partner
Follow @AngelCoach10