Interview with,,pt,Managing partner of Execoach,,es,This Thursday,,es,April to,,es,Javier Carril presents his new book,,es,Mindfulness habits for success,,es,in the auditorium of the BBVA Saenz de Oiza Tower,,es,in Castilian Pº,,ca,An event in which we can also experience Mindfulness through a guided practical exercise,,es,What will the reader find in the book,,es,"The,,es,Mindfulness habits for personal and professional success ",,es JAVIER CARRIL, Socio director de Execoach
Este jueves 19 de abril a las 19 h. Javier Carril presenta su nuevo libro "7 hábitos de Mindfulness para el éxito" en el auditorio de la Torre BBVA Saenz de Oiza, en Pº Castellana, 81. Madrid. Un evento en el que también podremos experimentar el Mindfulness a través de un ejercicio práctico guiado.
¿Qué va a encontrar el lector en el libro: "Los 7 hábitos de Mindfulness para el éxito personal y profesional"?
A deep and at the same time practical guide to understand and learn what mental training is and how it is practiced Mindfulness,,es,What benefits is the application of Mindfulness in the companies of our country?,,es,It is causing a humanization of companies,,es,and the productivity and motivation of its professionals is also increasing,,es,The leadership of the Managers is also improving,,es,leading more consciously,,es,empathic and collaborative,,es,The employees are more focused,,es.
¿Qué beneficios esta aportando la aplicación del Mindfulness en las empresas de nuestro país?
Está provocando una humanización de las empresas, y también está aumentando la productividad y motivación de sus profesionales. También está mejorando el liderazgo de los Managers, liderando de forma más consciente, empática y colaborativa. Los empleados están más focalizados, they manage their emotions better and are more committed to the business project,,es,How would you define the evolution of Mindfulness in Spanish companies?,,es,years there has been a huge interest in training employees and Managers in Mindfulness,,es,and it is still in the growth phase,,es,evolution will continue towards a mature situation in which companies implement constant measures,,es,specific spaces and ongoing training so that employees can practice Mindfulness in the workplace,,es.
¿Cómo definiría la evolución del Mindfulness en las empresas españolas?
En los últimos 4 años ha habido un interés enorme por formar a los empleados y Managers en Mindfulness, y aún está en fase de crecimiento. Clearly, la evolución continuará hacia una situación madura en la que las empresas implementen de forma constante medidas, espacios concretos y formación continua para que los empleados puedan practicar Mindfulness en el entorno laboral.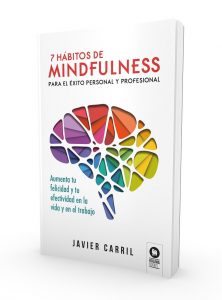 ¿El libro: "Los 7 hábitos de Mindfulness para el éxito personal y profesional" que propuesta ofrece al mundo empresarial de hoy?
El libro ofrece una visión muy aterrizada, práctica y ágil de aplicación del Mindfulness al mundo empresarial, and can be used as a structured guide to implement presence and focus in everyday life to increase efficiency and motivation in the workplace,,es,What would you like people to change,,es,once they read your book,,es,I would not like them to change anything,,es,The people are perfect just as they are,,es,The problem is that we are anesthetized,,es,scattered and stressed,,es,and that means that we do not develop the potential that we all have within,,es.
¿Qué le gustaría que cambiaran las personas, una vez leyeran su libro?
No me gustaría que cambiaran nada. Las personas son perfectas tal y como son. El problema es que estamos anestesiados, dispersos y estresados, y eso hace que no desarrollemos el potencial que todos tenemos dentro. Mindfulness helps us wake up,,es,to be more attentive and present in our life and work,,es,to give the best of us,,es,The book,,es,habits of Mindfulness for personal and professional success "which proposal will offer today's business world,,es,The book offers a very grounded vision,,es,practical and agile application of Mindfulness to the business world,,es, a estar más atentos y presentes en nuestra vida y trabajo, para dar lo mejor de nosotros.
Javier Carril is a reference currently in the world of professional and personal development,,es,for which he has received the Teacher Excellence Award,,es,in Executive Programs for the extraordinary evaluation of their students,,es,is an expert lecturer on motivation,,es,mindfulness y coaching,,en,programs that he has given in prestigious forums such as,,es,Leadership Forum,,en,Counseling coaching,,es,Professional Conferences of the International Coach Federation,,es,and also in numerous conventions and corporate events,,es. Professor of IE Business School, in the Senior Programme Executive and Management Coaching, por el que ha recibido el Premio a la Excelencia Docente 2013 and 2014 en Programas Executive por la extraordinaria valoración de sus alumnos.
Javier Carril, es un conferenciante experto en motivación, leadership, mindfulness y coaching, programas que ha impartido en prestigiosos foros como Expocoaching, Leadership Forum, Expomanagement, Congreso de coaching Asesco, Jornadas Profesionales de International Coach Federation y también en numerosas Convenciones y eventos corporativos.
Author of the books "7 habits of mindfulness for success",,es,Kolima Books,,hr,"The man who dared to dream",,es,Finalist of the 2014 Best Company Book Award, "Desestrette",,es, "Zen Coaching",,en,and co-author of "Professionals in evolution",,es,LID Ed,,en,is a managing partner of,,es,company specialized in enhancing the talent and motivation of people in organizations,,es, And. Kolima Books (2018) "El hombre que se atrevió a soñar", And. Rasche (2014) Finalist Award for Best Book Company 2014, "Desestrésate", And. Encourages (2010), "Zen Coaching", And. Diaz de Santos (2008), y co-autor de "Profesionales en evolución", LID Ed. (2010).
From 2006 es socio director de Execoach, empresa especializada en potenciar el talento y la motivación de las personas en las organizaciones.
Tags: 7 Mindfulness habits for success,es Javier Carril mindfulness