We have received today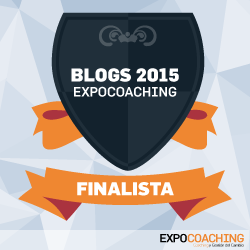 the great news that this blog was a finalist for the Awards for the best blog related to coaching and development, of Expocoaching 2015.
For Execoach team worked each month writing articles in the blog is a great honor to be among the finalists, as there have been more than 700 blogs Awards. You can see the list of finalists blog you here.
For years committed to a serious and rigorous blog to help us achieve mission Execoach: help companies to be more humane spaces, more creative and productive environments, where managers give priority to the needs and motivations of the individual members, as a means to achieve extraordinary results.
For this, we conducted a thorough review by the hundreds of articles published, by most important management skills, from leadership and team management to time management, through emotional intelligence.
Anyway, and from our point of view based on daily experience with computers, managers, professionals and entrepreneurs from diverse sectors, remains to be done. We see daily how managers and foremen exert over critics with their teams, that coaches and mentors. We found that team leaders not delegate by mistrust and fears, causing disillusionment and lack of commitment from colleagues, arriving to disengage completely from the business project. Finally, what we found is a very poor performance in companies, consequence of the lack of leadership and communication of company leaders. Motivating many business opportunities are lost and most talented people leave the competition looking for a more creative environment and.
And what do you usually do in this scenario? Is often used standardized solutions and little connection to the real needs and concerns of the people in the company. For example:
Isolated training courses that have no continuity of development over time.

Diagnostic tools personality that only generate information on the person on what, but not on how.

Performance evaluations carried out once a year, and a burden to the Manager and to the contributor, despachándolo as a mere bureaucratic.

Coaching Process 6 sessions, without continuity and support in time.
The real changes are achieved in the long run, in a firm and continuing commitment in time and connected actions consistent development strategy, which in turn must be connected to the vision and objectives of the company. However, There are two major scourges that prevent developing effective solutions in the field of development of people in companies:
Short-termism. At all levels of the organization prioritizes the short term, immediate results, operability, and strategy is neglected, vision and long term goals.
The urgent. Closely related to the first point, perform professional management of the urgent, and never how important. Emergencies devour their agendas as anxious hyenas, generating stress, helplessness and discouragement managers and employees.
Since I work a lot with Banco Santander, follow closely the changes in the group since Ana Patricia Botín took over the company after the death of his father. Among other changes brought, am very interested in the change being made in the mentality and culture of such a gigantic company. It is affecting persistently in crisp and clear messages, while compelling, that deal specifically with the long haul, with the vision and mission, with the values they should direct every action, every decision of every employee of the Bank. Namely, is landing through communication concepts vision, mission and values, so often seem pretty simple phrases to decorate a website of a company. Where applicable, its work of clarity and strategic communication is being admirable and splendid, from my point of view, well as much needed to reverse the overall negative image of the citizen on the banking sector.
The team Execoach continue to write on this blog many years, with the same enthusiasm and desire to awaken and challenge the professionals and business managers, to increase their performance and happier at work.
Have you been interested in this item? Follow us on Follow @Execoach_ And sign up for our Newsletter monthly for practical items for your professional development.

Javier Carril
Managing Partner